DISCOVER CHISHOLM PRIMARY
We are a safe, honest and respectful learning community committed to providing an environment that is collaborative, inclusive, challenging and fun.
We offer best teaching and learning practice to improve outcomes for all students.
Explore the amazing opportunities we're creating for our students
Take a 360° Virtual Tour
---
What we offer at Chisholm Catholic Primary
Chisholm Primary is a Catholic coeducational school that was established in 1994 and is one of two primary schools serving St Matthew's Parish in Windsor. Chisholm prides itself on being a safe, honest and respectful learning community. In living out the values of Christ, our aim is to share our faith, welcome all members into our school family and work together to create the best future possible for our students.
We are committed to providing each student with a learning environment that is comprehensive, inclusive and challenging. Located in Bligh Park, we are a vibrant school which seeks to live out the values of Christ in a caring and supportive environment.
---
Pursuing excellence in every endeavour
The community of Chisholm Primary follow in the footsteps of Caroline Chisholm whose pioneering spirit inspires us to embrace the changes necessary to constantly improve the educational outcomes of our students, and to look to the future with hope.
We set high expectations for our students and we encourage them to accept responsibility for their learning and behaviour. We aim to develop students who are confident, independently minded and well-placed to contribute to a just society, as well as having a deep understanding of, and commitment to, the Catholic faith.
Learn more
---
An engaged community
Our students benefit directly from the way our parent community is involved in the life of our school. This contribution has a significant and lasting impact on our students. From parent involvement in the classroom, on excursions and carnivals, to their attendance at school masses and assemblies, Chisholm students know their efforts and education is valued by our community.
On a practical level, our Chisholm Community Group and parents who assist with learning use their skills to improve the facilities and educational outcomes of our students.
Learn more
---
Equipped for a quality education
Technology now forms an integral part of a 21st century education and Chisholm is dedicated to integrating technology throughout the curriculum.
The school has a range of learning technology including mobile laptop banks, supervised Internet access and digital cameras – all intended to enrich the learning experience for students and ensure that the education they receive is engaging and relevant.
Learn more
---
A wide variety of co-curricular and sporting activities
Students at Chisholm Primary are provided with a wide range of activities that allow them to develop as young people with a range of interests and abilities.
These activities include academic, extracurricular and sporting activities which are supported by committed staff who believe in the importance of educating the whole person. The interests and talents of students are nurtured in a wide variety of activities. Some of these include:
Premier's Reading Challenge
Voice of Youth Public Speaking
Diocesan Creative Arts Expo
Chess Competitions
Swimming
Cross Country
Athletics
Rugby League
Soccer
Cricket
Touch Football
Netball
This diverse range of activities allows for students to explore their talents and challenge themselves both in and out of the classroom, cultivating the whole child and providing opportunities for our students to learn more than just the fundamentals.
Learn more
POLICIES AND PROCEDURES
Chisholm Catholic Primary has a number of policies and procedures that govern various aspects of our school life. Learn how we operate.
Learn more
ANNUAL REPORT
Our Annual Report provides parents and the wider school community accurate information about various aspects of school performance and development.
Learn more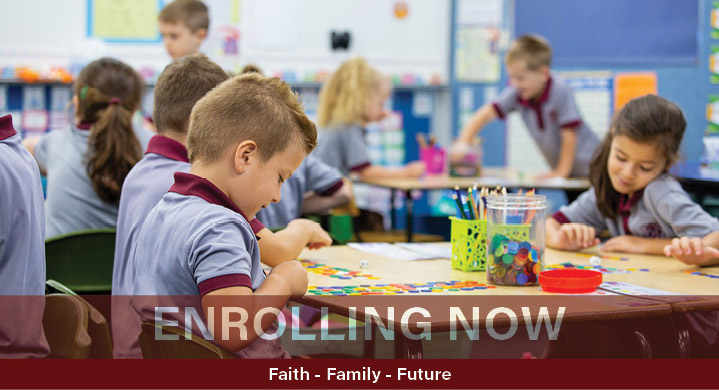 Enrol your child TODAY!
We look forward to welcoming you! Contact the school today to enrol and discover the many benefits of joining the Chisholm Catholic Primary learning community.