At Chisholm Catholic Primary we foster in students a strong sense of community and pride.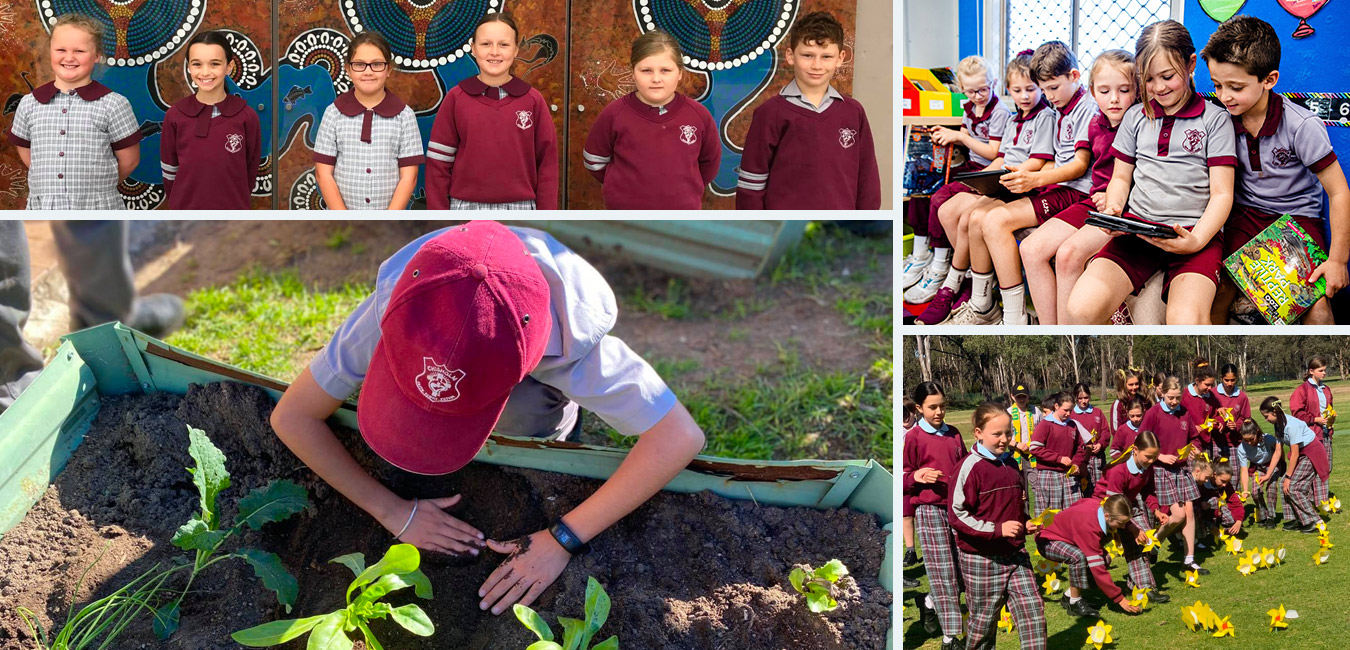 Summer Uniform
Winter Uniform
Boys

Maroon shorts
Grey shirt (short sleeve)
Grey socks
Black lace-up leather shoes

Grey trousers
Grey long/short sleeve shirt
Grey socks

Girls

Grey check uniform
Maroon skorts
Blue blouse
White socks
Black lace-up or buckle up leather shoes

Maroon / Grey tunic
Maroon/Grey slacks
Blue blouse
White socks or grey stockings
Maroon Tab

Unisex: Sports

Grey polo shirt
Maroon sports shorts
Maroon track suits
Chisholm sports socks are compulsory
Joggers
Maroon zip jackets or sloppy joes are also worn.
Maroon hats are worn daily.
Maroon caps are worn daily (available for Year 3-6 only).
A "No hat, no play" policy applies at Chisholm.
Parents are asked to please note the following:
Tracksuit pants are only to be worn on sports day.
Chisholm Sport socks are to be worn which are purchased from the Uniform Shop.
Girls stockings (winter) are to be light grey. (Socks are not to be worn over stockings).
Uniform Policy
Please ensure that you are familiar with the uniform and appearance guidelines for Chisholm Primary. Students are to be neatly and cleanly dressed at all times. Shoes should be clean and well presented. Additionally, we have a number of requirements for students to follow.
Hair
Hair is to be kept neat and tidy, off the collar, of consistent natural colour, of gradual even grade and all extremes of fashion are to be avoided. Some examples of "styles" that are unacceptable include: ridges, lines undercuts and steps.
Girls hair that is longer than shoulder length is to be tied back from the face. Hair is to be off the face and out of the eyes. Ribbons, hair slides etc, if worn should be in the uniform fabric or maroon. Scrunchies are available to purchase from the Uniform Shop.
Wet Weather Protection
Protective wet weather clothing may be worn to and from school. It is not to be worn during school.
Jewellery & Accessories
Apart from one pair of sleepers or small plain studs and a wrist watch, jewellery is not permitted for safety reasons. A chain with a cross or religious medallion may be worn under the shirt line. No rings (birth/baptismal rings excepted), make-up or nail varnish is allowed. Nails should be kept clean and neatly trimmed.
Boys may not under any circumstances wear earrings.
Hats & Bags
Only the correct school hats may be worn - purchased through the Uniform shop. The school has a 'no hat no play policy'. Books are to be carried to and from school in the correct maroon school bag, purchased from the Uniform Shop.
Uniform Orders
Due to COVID19 the uniform shop will remain closed until further notice. Due to ongoing social distancing restrictions and the need to remain cashless we will continue to take online orders only.

Orders can be placed via the Qkr App.
To set up the Qkr App, follow the steps in the flyer Qkr App

Orders will be filled on Mondays and Thursdays and distributed directly to the student.
Clothing Pool & Lost Property
When children grow out of school clothing, parents are asked to consider donating these clothes to the school's clothing pool.
Each year, numerous unclaimed items are left at the school. Please ensure all clothing and personal property is clearly labelled so that, if lost, it can be returned to your child.
As soon as you are aware an item has been lost, please contact your child's teacher. If the missing item is not found in the classroom we will ask you to check the lost property basket on the verandah near the staff room. If an item is lost on a bus, please contact the bus company and inquire whether the item has been handed in.