Learning to make a difference
06 Jul 2018
Chisholm Catholic Primary Bligh Park hosted an 'Education for Sustainability Project Based Learning Expo' recently.
With support from Penrith Lakes Environmental Education Centre, Principal Branimir Lazendic invited Oxley Park Public School, Glossodia Public School and Bonnyrigg High School students to also attend.
They had all decided to work together to support 'Tears In The Jungle Save the Orangutans'. Tears In The Jungle was formed when brothers Daniel and William Clarke, had a vision to save the orangutans. In 2007, they were given the chance to meet Prime Minister John Howard. This meeting led to the Commonwealth Government contributing $500,000 towards the cause.
Soon after, the brothers made their first trip to Borneo and travelled deep into the jungle to see orangutans in the wild. As a result of this experience, they wrote their first book "Tears In The Jungle: A Children's Adventure to Save the Orangutan" to raise awareness about the animals being critically endangered. The main threat to the orangutans is deforestation of their habitat for the production of palm oil.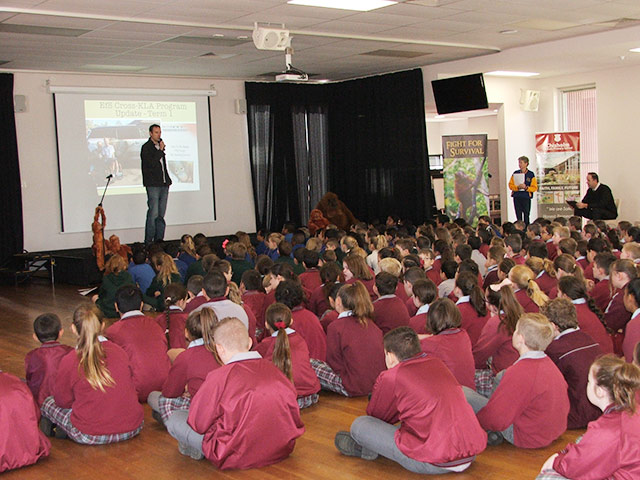 Students took delight in presenting their projects to the Clarke brothers, Daniel, and William.
Chisholm Primary Year 6 students Holly Merryfull and Phoebe Dalton said they didn't know the effect the palm oil industry had on the orangutans' habitat until they did their Education for Sustainability project. Now they do know, they don't want to buy products containing palm oil.
"We also learnt it doesn't matter how little an idea seems, it will make a big impact," Holly said.
Phoebe agreed. "It also taught me you can speak up for what you believe in and you can achieve more with more people to make a big difference."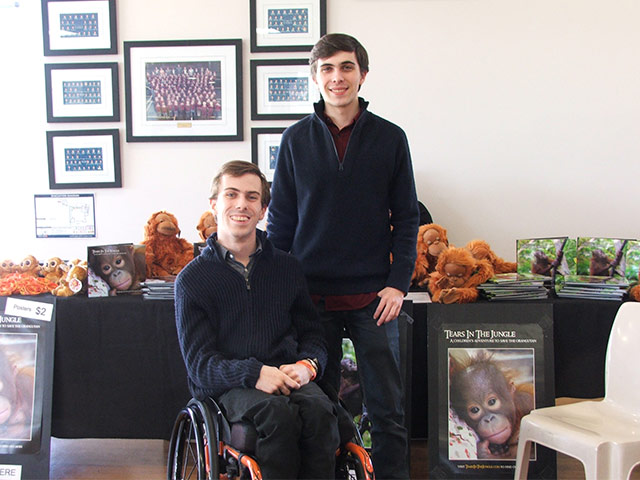 No matter who you are or where you come from, we can all make a difference in this world.
Daniel Clarke, Co-founder, 'Tears In The Jungle'
William Clarke said has was inspired by the students' passion for their work.
"To see all their work, the time they have invested and the money they have raised… it is just inspiring to see the next generation so willing to take up the mantle to save the orangutans and help our environment," William said.
"It is absolutely breathtakingly inspiring!"
Daniel Clarke said every little thing helps whether it is raising money or raising awareness.
"The more people who know about the orangutans, the more likely we will be able to save them," Daniel said.
The Clarke brothers said other schools can get involved by learning about sustainability so they can help the environment around them.
"As long as the schools are able to skill up the students so they can pursue their own passion, I think that is the most important thing they can do," William said.